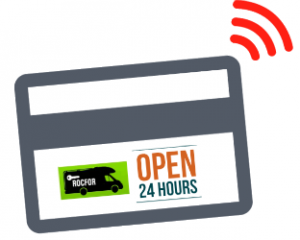 ROCFOR also offers you cheap car parking for your motorhome or caravan.
This car park area is placed in the same C-32, it has got individual parcels of land, an equipped area to empty liquids out, a tunnel car wash, a pipe to fill in your tanks and a vacuum cleaner.
At ROCFOR area you will find anything you need to get your motorhome or caravan ready before setting off. And all this at your own disposal at any time, thanks to an entry phone private access.
FARES
MOTORHOMES CAR PARKPARKING

Covered motorhomes

*
1.135,00 € / year IVA including

In the open motorhomes

**

639,00

€ / year IVA including

* Covered = indoor car park, each boxe has an individual socket. This area is lit up at night

** in the open = outdoors car park for motorhomes. Well-marked plots. Individual main power.

CARAVANS AND TRAILER CARAVANS CAR PARKPARKING

*

2m – 6m caravans

492,00

€ / year IVA including
*

More than 6m caravans

598,50

€ / year IVA including
**

Up to 2m trailer caravans

285,00

€ / year IVA including

* Caravans = car park for caravans.

Different plots from 2 to 6 meters.

** trailer caravans = car park for trailer caravans.

Different plots up to 2 m.

SERVICES

24 hour electronic card to get in.

Well-marked individual parcels of land

I

nsurance

Workshop

Tunnel Car Wash

Accessories shop